yeah.... I don't know why I said that either.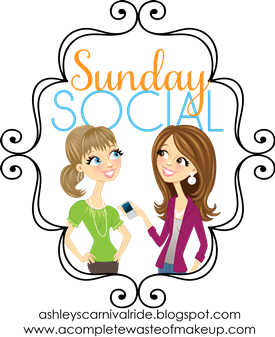 So linking up with Neely (whom I am sponsoring) for this weeks Sunday Social.
This Weeks Questions:
Taking it back to week 1
* How did you come up with your blog name?
Guess what? I actually have a whole blog post dedicated to that...because my name is a bit confusing. See
here
.
* What is your favorite thing about blogging?
Having an outlet for my thoughts and all the awesome people I have met.
* What is one thing you have discovered because of blogging and now cant live without?
Erin Condren. I know her shiz is expensive but I am obsessed with paper, journals, planners, etc. I love my planner most of all. To me? The price is worth it!
* Facebook or Twitter? and why?
Personal life? Facebook. I love seeing pictures and hearing about my family and friends lives. Blog life? Twitter. So much easier to keep in touch with your bloggy friends.
* If one celeb read your blog who would you want it to be?
Can I pick three? No? Well too bad. Sandra Bullock, Amy Poehler, & Kristen Wiig. If I could make them laugh just once my life would be complete.
* What is something you want people to know about your blog?
It really is me. I sometimes struggle how much I should share but then I think, screw it. If you like what I have to say then we are truly meant to be friends. Does that make sense?