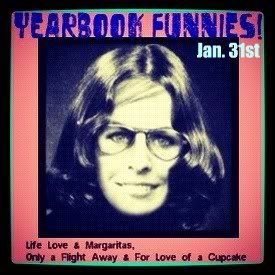 So the lovely ladies Cara, Amanda, & Melina have this hilarious link-up today. It's called Yearbook Funnies and it's pictures of you in that awkward phase. I chose a few pictures (a couple are not yearbook) because I had so many awkward stages. Truthfully, I have another really horrible one from 6th grade but I can't find it right now. But someday I will reveal it...it's horrendous (worse than these). Anyways...right to the goods..
*

I don't have s scanner so you will see some glare spots from my flash...sorry

*
hello, Miss Mushroom cut
Proof that I sadly had a mullet. - on left - if you couldn't tell ;)
Yes, I believe that bow is bigger than my head. (and I look bald)
It's hard to tell but I have some huge glasses on, and that is the outfit I pretty much wore everyday - Adidas was really in.
I have no idea why mom let me have my bangs like that...Especially in a church picture like this one.
OK - this is the worst of them all. My parents were out of town on picture day so my sisters were in charge of me. Well I did my own (non-existent, hardly have any) hair. How horrible is that?! I actually can't believe I am sharing this.
Well I hope you all had a good laugh...I sure did!
Make sure you go and check out those ladies blogs and check out their Yearbook Funnies and the other people who linked up! It's going to be hilarious!