I have so many ideas and posts to come but haven't had time to actually type them out thanks to 1) trying to be a better mother (that includes getting off the computer and playing with my child) 2) being sick both physically and mentally. I had a virus about a week ago and now I have pain behind my eye/swollen eye again. Plus I have just have been dealing with some personal (friend) things...but I am optimistic. I just am adjusting to some changes) But here is a preview of what is coming in the new few weeks.
I'm sorry but next week may have a few rant posts. Just because I feel like I have been offended and bothered by things.
To Come - (I swear they are coming)
* So-called Blog "rules"
* Mom blog vents (not about them but what people say about them)
* Presidents (don't worry it is not a hugely political thing)
* Jealousy - I actually have a 2 parter for that.
Couple of pictures of Mason:
Mason gets super spoiled by his grandparents (especially when it comes to food and chocolate)
Mason's mess and Ally (my dog) sleeping like a freak - and she is always sleeping like that)
Mason decided to climb into his toy box and throw out every. single. toy. He loves to make messes.
Even though he doesn't go to Daycare, Mason loves other kids...especially his Buddy Abby (his cousin & my niece/goddaughter)
Also, these 2 ladies are having awesome giveaways......Kasey is having her 100 follower giveaway - including some nail polish, scentsy, and a mystery gift :)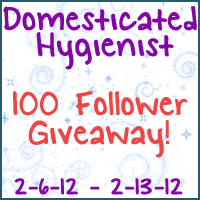 And the fabulous Lori is hosting her 100th post giveaway - a super cute cowl that I must want to win!