Hi. So today, I think ya'll need to head on over to

Kyna's

blog. She is one of the sweetest bloggers around, and I'm not just saying that. She is super nice and has an adorable daughter. Plus, I'm over there sharing a recipe! It's really good and easy...promise!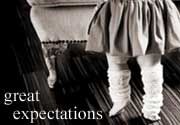 Ok...So I will really be back tomorrow. Sorry for being MIA. Don't forget to come back lovies!